herbal napkin making machine thermocol plate machine:Bengalurean's contraption compacts loads of thermocol into a small lump: Therminator: Salvation
herbal napkin making machine thermocol plate machine:Bengalurean's contraption compacts loads of thermocol into a small lump: Therminator: Salvation
  By Barkha Kumari
  During last August's torrential rains, the Bruhat Bengaluru Mahanagara Palike (BBMP) identified the new culprit that was clogging drains and flooding
  the city. It was thermocol – the packaging material popularly used for shipping goods. Soon, promises were made to monitor and penalise illegal dumping of thermocol near storm water drains. But what happened in that area since is yet to be ascertained. Meanwhile, the Palike might want to look at Therminator – a patent-pending innovation by environmental engineer Ferdin Sylvester.
  Therminator is a machine, the size of a huge fridge, which compresses kilos and volumes of thermocol into a small, unshapely mass, using heat, pressure, and gravity. It can reduce a batch of thermocol to 80 per cent of its volume – so while its weight per unit goes up, it ends up occupying much lesser space.
  The 29-year-old innovator explains: "There's a reason why garbage pickers walk away with paper and plastic but not thermocol, and why you see thermocol thrown all around. Thermocol is low in weight and high in volume; so, it is not financially profitable for them to collect, store and transport it to recyclers. But if they were to compress it, they could store more, sell more, and make more money in one go."
  In short, Therminator is fixing the logistical issue of transporting discarded thermocol to its rightful destination – recycling plants. These are otherwise burnt (releasing carcinogenic fumes), dumped in sewers and drains, or emptied out into already-cramped landfills. This can be stopped by making thermocol profitable for those who collect, segregate and recycle it, says Sylvester, who studied biotechnology in Bengaluru and environmental engineering in Singapore, and is now settled here.
  He backs it with a case study that his company Ecobel carried out at the Dry Waste Collection Centre (DWCC) at the Jayanagar Ward 168 along with its operator Mansoor Gous last year. "The ward receives up to 150kg of thermocol from approx 1,000 homes every month. Of this, 100kg can be transported to the recycling plant located 55km in Kengeri in a single trip. A kilo is usually sold for `20, so they can make `2,000 by selling this load off. But one trip itself costs `2,000. So that is zero profit."
  By compressing thermocol, they can ferry 500kg in one trip, instead, and it will fetch them `6,500 once the cost of transportation and manpower is deducted, he adds.
  For now, Therminator can densify one kilo of thermocol in 45 minutes to an hour. Sylvester explained the nuances of Therminator while giving a demo to this reporter and photographer at a workshop along Bannerghatta Road.

  "Thermocol is nothing but plastic with up to 95 per cent of air trapped inside it. That's why it is called Expanded Polystyrene (EPS). So what Therminator does is it forces that air out by deforming the polystyrene bondings. Its thermal plates heat the EPS at glass transition temperature where it doesn't melt but transition to semi-solid state to form polysterene again. This polysterene can be recycled into pellets just as plastics are."
  Operating temperatures are carefully calibrated to ensure no fumes are generated but to be on the safer side, Sylvester has recently attached an air filter on top of his lone machine, which took him two years, two iterations and more than Rs4 lakh from his pockets to put together.
  ANY TAKERS?
  So far, so good. But has his innovation found any takers? Sylvester nods and says, "Gilgal Charitable Trust has agreed for a pilot run at the DWCC, which it manages at Ward No 5 of Yelakanka. But they need BBMP's approval first, which will happen only after the elections get over. I don't get why civic issues should be sidelined due to elections."
  Taking a dig at the political priorities of the state, he says in the same breath: "When you have candidates like Sanjay Patil (a BJP MLA) saying that the electoral contest in the state is about religions and not roads and drinking water, I am not sure what else to expect."
  More on this, he says Electronics City Industrial Township Authority (ELCITA) has asked him to give a demo of the Therminator next week, and MRPL-ONGC in Mangaluru has shown interest to fund his project under its startup initiative.
  But a lot needs to be done before Therminator can make an impact. He says: "By the end of this summer, once this pilot is over, I want to give Therminator out for rent to DWCCs and companies. I want to manufacture more Therminators and sell them. They will be of two capacities – 1kg for `4.5lakh, and 2kg for `6.5lakh. I also want to automate the whole process of loading and offloading." There's more. In the long run, he wants to connect DDWCs and companies to recycling units so that they know their thermocol waste is not going waste and is actually being reused. "It will bring accountability and transparency to the process," he signs off.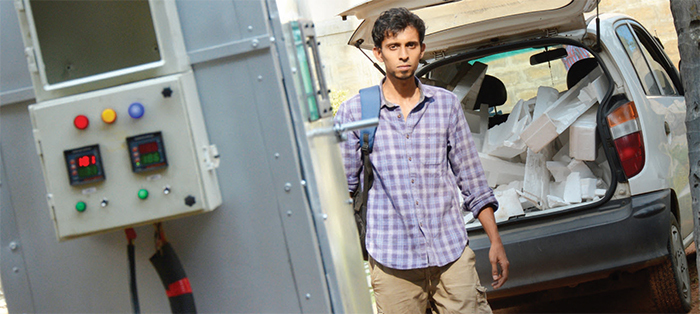 Facts speak
  * Thermocol is Expanded Polystyrene i.e. plastic with 95 per cent air. Therminator forces that air out using heat, pressure, and gravity, and turns thermocol back into a ball of polysterene, which can be recycled into pellets just like plastics.
  * Since it melts thermocol and doesn't burn it, it doesn't produce harmful gases.
  * Therminator can reduce a batch of thermocol to 80 per cent of its volume. It can process 1kg of thermocol in every cycle.
  * Up to 500kg of compressed thermocol can be transported in a truck in one trip as opposed to 100kg in its original form. So, garbage collectors can make more money by selling it off to recycling plants in one go.
herbal napkin making machine thermocol plate machine:Bengalurean's contraption compacts loads of thermocol into a small lump: Therminator: Salvation